What Are The Best Hours For Forex Trading?
Forex is a huge global entity, and one that was worth more than $2.4 quadrillion at the end of 2019.
Not only this, but the forex market is also 24-hours in nature, with activity spread across three geographical trading sessions in North America, Europe and the Asia-Pacific regions.
In this post, we'll appraise the best hours for forex trading, while asking why certain time periods are better than others.
The Forex Market and its Opening Hours
While there are four major forex exchanges across the globe (namely London, New York, Sydney and Tokyo), there are three primary sessions as described above. These run as follows:
Asia-Pacific (Tokyo): 1am to 10am (GMT)
London: 8am to 4pm (GMT)
New York: 1pm to 10pm (GMT)
While the London and New York sessions are often the widest traded by investors, the Tokyo exchange often sees the widest variety of currency pairs traded. 
More specifically, currencies such as the Australian dollar, New Zealand dollar, Japanese yen and the Russian ruble are traded prolifically through the Tokyo exchange, highlighting its popularity amongst investors who prefer minor currency pairings.
Why is it Best to Trade at Some Particular Times?
While the 24-hour nature of the market creates opportunities for those interested in forex trading to diversify their currency interests, you'll also need to time your trades depending on your target assets and underlying investment strategies.
The reason for this is simple; as liquidity and volatility levels continue to fluctuate through the trading day, making some hours considerably more conducive to trading than others.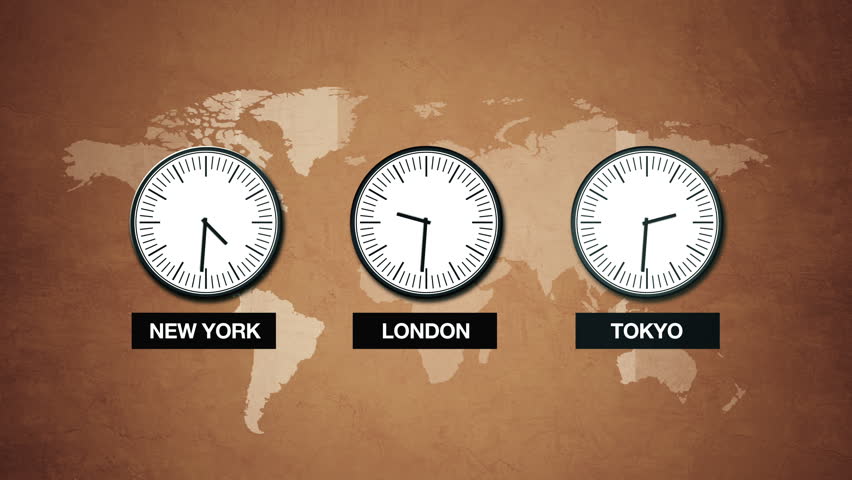 For example, scalpers and day traders prefer to operate when volumes are high and volatility is optimised, as there are more price movements to capitalise on.
Conversely, this type of market can be challenging for those with different strategies and a more risk-averse outlook, so it may be better to seek out quieter trading periods in this instance.
When Should You Trade on the Forex Market?
Ultimately, you'll need to tailor your trades and trading schedule to suit your outlook, while also factoring in your status as an investor and whether you focus on forex full-time or as an aspiring amateur.
If you do intend to operate as a day trader and want to capitalize on peaks in trading activity and volatility, however, we'd recommend targeting time periods where two of the aforementioned trading sessions overlap.
For example, both the London and New York exchanges are open between 1pm and 4pm (GMT), creating heightened activity and potentially increased price movements during this period.
Both the London and Tokyo exchanges are also open between 8am and 10am (GMT), creating a short but potentially more lucrative window to profit directly from the market's innate volatility.
Just take the time to understand the market's structure and measure this against your own investment outlook before making an informed decision, while maintaining a deterministic mindset that recognizes the underlying laws that govern currency price shifts.